Newmar Ventana motorhomes are designed to provide you with a luxury living experience wherever you are. Check out our selection online and read why we love them in our 2021 Newmar Ventana motorhome review.
Gorgeous Kitchen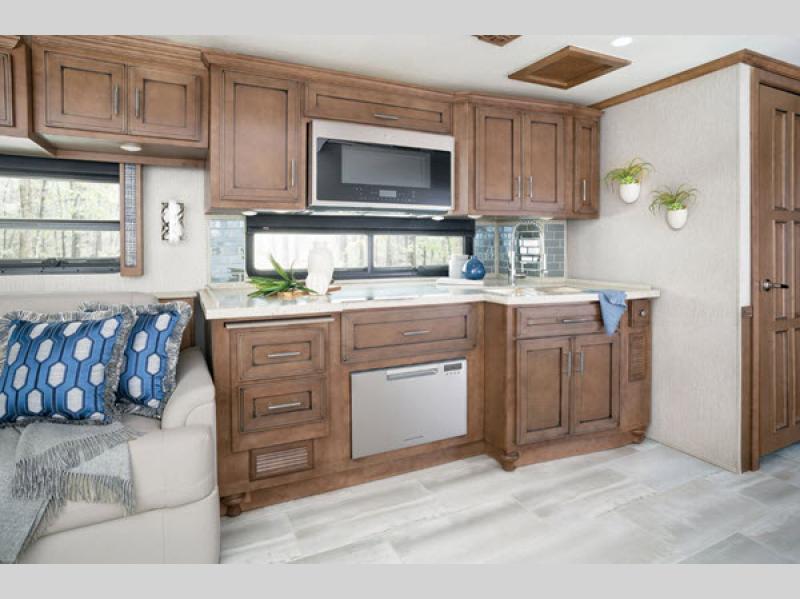 This kitchen is one for the books. You'll love how it comes with a ton of high end appliances, include space for a two piece washer and dryer. Whether you're cooking a quick meal or creating one that's photo worthy, everything about this space will bring out your culinary creative side.
Features:
Convection Stainless Steel Microwave with Three Burner Recessed Gas Cooktop
Air Horns
Norcold® 10 Cf. Refrigerator with Brushed Aluminum Refrigerator Front
10 gal. Gas/Electric Water Heater with Direct-Spark Ignition on 34'-40' Floorplans
Prep for Two-Piece Washer/Dryer
Flush Gas Cooktop Cover of Matching Countertop Material
Fireplace in Living Area*
Stunning Living Room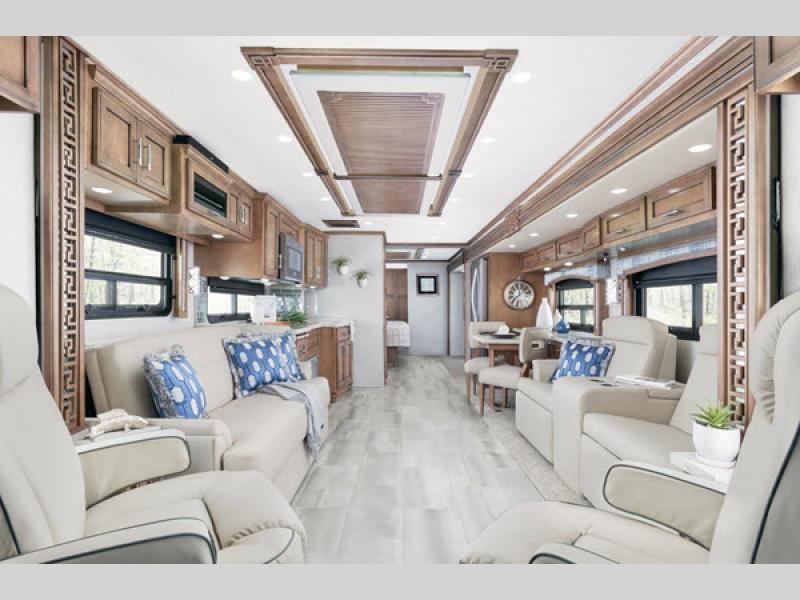 You'll feel at home wherever the road might take you in this living room. The tile floor is durable and extends into the bedroom area, while the window shades offer privacy wherever you're parked. You'll also appreciate how the decor is very tasteful and sure to make you feel at home.
Features:
Designer Feature Ceiling
Tile Floor in Kitchen, Bathroom and Living Area
Floor Tile Extended into Bedroom Area
Carpeting on Slideout Floors
MCD Window Shades
MCD Power Shades at Windshield and Manual Shades on Driver/Passenger Side Windows
Dash Panel Color Coordinated ABS
Decorative Wall Art
Inlaid Six-Panel Design Interior Passage Doors
Interior Assist Handle at Main Entry Door
Power Stepwell Cover
Quilted Bedspread with Accent Pillows
Removable Transport Pads for Under Slide out Rollers
Waste Basket in Kitchen Base Under Sink
High Quality Entertainment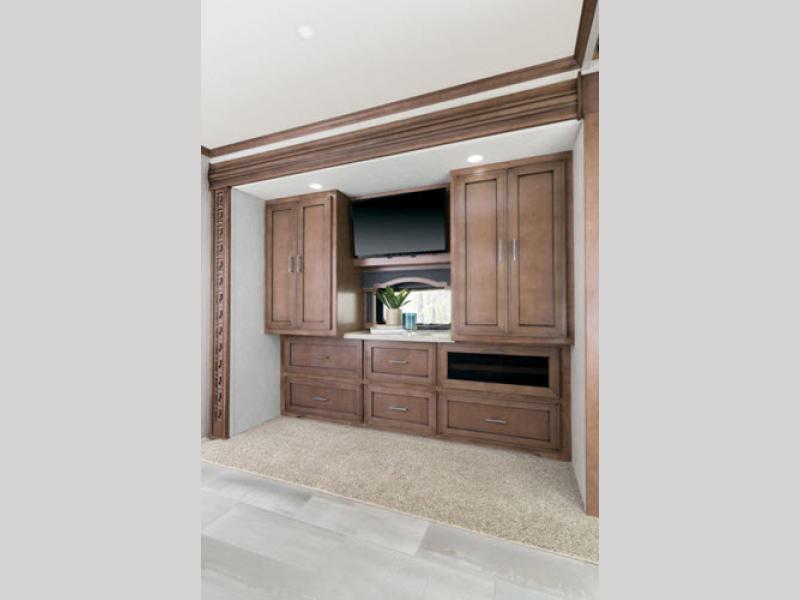 Who needs a movie theater when you've got Ventana's entertainment center? You'll love how this RV comes with everything you need to kick back and enjoy a movie, your favorite show, or a football game. The Bose Solo surround system promises to deliver stunning audio and the Samsung 4K TVs guarantee the most crisp picture possible.
Features:
Samsung LED 4K TV and DVD Player in Living and Bedroom Areas* (TV Sizes Vary Per Floorplan)
Samsung 50" LED 4K TV on Televator in Living Area*
Dash Radio/CD Player with Harman/JBL 180 Watt Sound System and Subwoofer
Bose Solo 5 Sound Bar Sound System
Bluetooth Microphone for Sony Dash Radio
Two Blu-Ray Disk Players
Rearview Color Monitor System with Audio
Side-View Cameras
Winegard Digital TV Antenna
Satellite Dish Prep on Roof
Two Bedroom Radio Speakers
TV Jack and 110 Volt Recept in Door Side Exterior Storage Compartment
High Definition Component Wiring
10 Bc Fire Extinguisher, Smoke Detectors, Propane and Carbon Monoxide Detector
If you're interested in shopping for a new Newmar Ventana motorhome, contact us. We'll happily answer your questions, walk you through units, and ensure you have the information needed to make the best choice for your needs. We can also assist with RV Financing, so affording your dream RV is easier than ever.