Campfire peach cobbler is a delicious treat that combines sweet peaches and a crisp biscuit topping. With notes of cinnamon and brown sugar, this treat is made over an open fire and sure to make you feel the warm comfort that comes from enjoying a cobbler.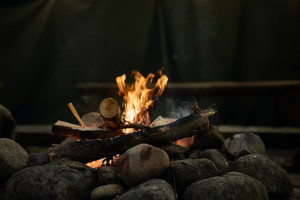 Campfire Peach Cobbler
Ingredients:
Serves 6-8
For the fruit layer:
— 6 ripe but firm peaches, pitted and sliced
— 2/3 cup brown sugar
— 2 Tablespoons all-purpose flour
— 1 teaspoon ground cinnamon
— 1/2 teaspoon vanilla extract
For the biscuit topping:
— 1 cup all-purpose flour
— 1/3 cup brown sugar
— 1 1/2 teaspoons baking powder
— 1/4 teaspoon salt
— 1/2 cup cold buttermilk
— 1 stick of chilled butter (8 Tablespoons), cubed
Instructions:
1. Preheat the center of your grill to medium-high heat (400 degrees Fahrenheit). Toss the sliced peaches, brown sugar, flour, cinnamon and vanilla extract together and set aside.
2: In a separate bowl, whisk the flour, sugar, baking powder and salt together.
3. Add in the buttermilk and cubed butter. Using a rubber spatula, fold in the wet ingredients until the biscuit dough forms. Be sure not to overwork the mixture.
4. Transfer the peaches (with all of their juices) to a lightly greased nine-inch cast-iron skillet and divide the biscuit dough into eight equal rounds. Carefully dollop the rounds over the peach layer (I like to use an ice cream scoop for this step).
5. Uncover the lid and carefully place the skillet over the center grates of the grill.
6. Cover the lid and allow the cobbler to cook for 20-25 minutes or until the biscuit topping is deeply golden and the peaches are bubbly. Keep an eye on the grill thermometer (usually found on the lid) and make sure the temp remains at 400 degrees the entire time; adjust the dials as needed. Once the cobbler is cooked through, very carefully remove the pan using a heavy duty oven mitt and allow the cobbler to cool for about 20 minutes before serving. (I like to keep the oven mitt or kitchen towel draped over the handle of the skillet to remind myself and others that it's still PIPING hot.)
If you're interested in shopping for an RV, contact us. We'll happily answer your questions, walk you through units, and ensure you have the information needed to make the best choice for your needs. We can also assist with RV Financing, so affording your dream RV is easier than ever.
Source: brit.co