Once the weather starts to cool down, my family loves turning to camping recipes that you have to eat in a bowl and with a spoon. Check out our camping recipe for Taco Soup below. It's something the whole family will love!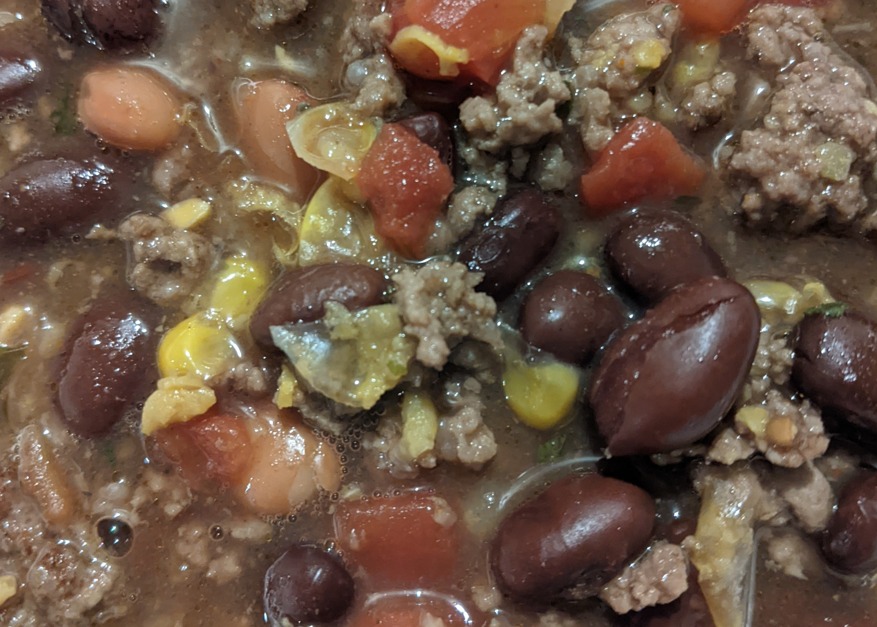 Taco Soup
Ingredients:
2 pounds ground beef (you can substitute any kind of meat, but my family prefers ground beef)
1 envelope taco seasoning
1 envelope Ranch dressing seasoning mix
1 ½ cups water
2 cans black beans, rinsed and drained
2 cans cream corn
2 cans pinto beans, rinsed and drained
1 can (14 ½ oz) diced tomatoes
1 can (10 oz) diced tomatoes with green chilies
Additional toppings for serving: sour cream, shredded cheddar cheese, corn chips
Tools You'll Need:
Skillet
Spatula
Colander
Measuring cup
Slow cooker
Slow cooker liner
Directions:
Over medium heat, brown the ground beef in a skillet, crumbling as you go. Drain and discard the fat – but never down the sink drain!
Put a liner in your slow cooker for easy clean up. Add the cooked ground beef and all other ingredients except the ones you'll need for serving ((like cheese and sour cream). Put the lid on and heat through on low for 4-6 hours. Serve with the toppings you like!
Modifications:
If you want a little extra heat, add another 4oz can of green chilies or double the taco seasoning packets.
If black beans aren't your favorite, switch them out for a different bean – like red beans or Great Northern.
Prefer chicken or pork? I sometimes swap out for 2 pounds of a different meat – like ground chicken, canned chicken, or pulled pork. It's even tasty with sliced beef smoked sausage or kielbasa!
This easy camping recipe is easy to love and hard to mess up. We'd love to help you find the perfect new or used RV that's just as ideal for your family. Contact us or stop in to check out our inventory today!