Fall weather has arrived and we are here for it! Fall is my favorite time for camping, and there's nothing that beats a weekend getaway in your new or used RV with crisp, foggy mornings, cool evenings, and a hearty bowl of stew. Check out this easy camping recipe for Beef & Lentil Stew for an easy recipe that will fill you up!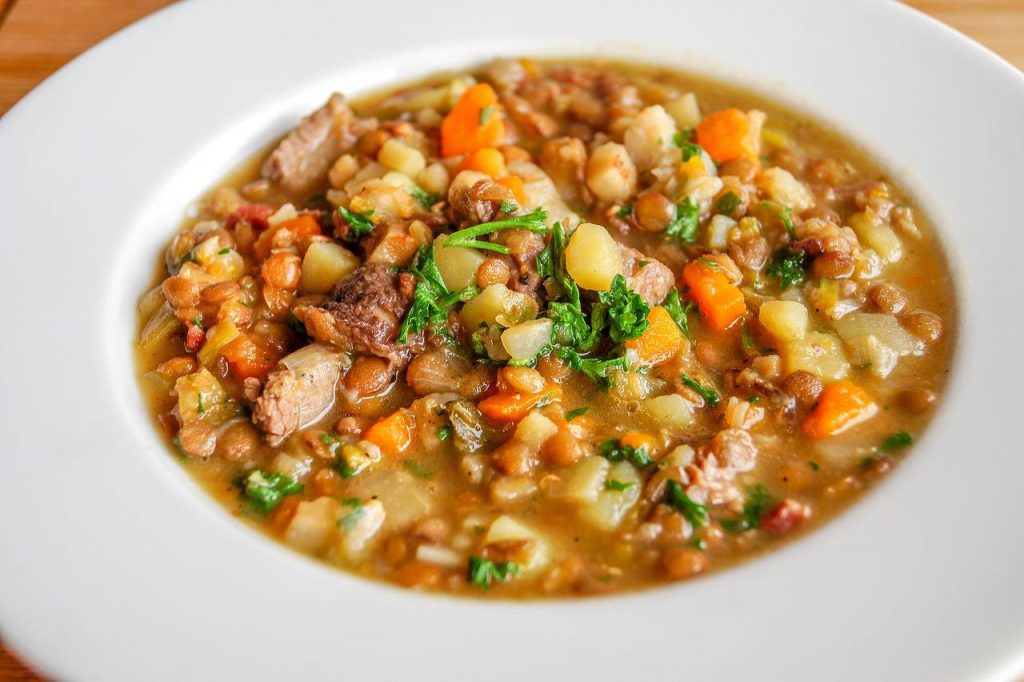 Beef & Lentil Stew
Ingredients
2 tablespoons all purpose flour
1 lb stew meat, cut into pieces
2-4 tablespoons cooking oil
4 carrots, skinned and diced
1 onion, diced
1 celery stalk, coarsely chopped
1 14.5 can petite diced tomatoes
4 baby red potatoes, diced
1 teaspoon minced garlic
1 cup dry lentils
32 oz container beef broth
1 ½ teaspoon dried rosemary
Salt and pepper, to taste
Prep-ahead pro tip: if I have leftover carrots, onions, and celery that are a bit past their prime, I chop them up, combine them into a food storage bag, and store them in the freezer. This "power trifecta" of veggies are an ideal base for many soups and stews. In a similar way, you can prep these three in advance and have them ready to dump in the soup pot.
Instructions
Lightly coat the stew meat pieces in the flour. Set meat aside and discard the remaining flour.
Heat oil in a 6 quart soup pot and sear the beef on all sides until it's browned (3-5 minutes). Remove meat from the pot and set aside.
Add the carrots, celery, and onion to the pot. Cook until softened and onions are translucent (about 5 minutes), adding a bit more oil if necessary to keep it from sticking.
Add the tomatoes with juice, lentils, beef broth, garlic, rosemary, and browned beef to the vegetables in the pot. Stir well to combine.
Simmer at low heat for 30-40 minutes, partly covered with lid, stirring occasionally.
Add diced potatoes and cook until tender, another 15-20 minutes.
The lentils in this stew help bulk it up and add amazing flavor! You'll also appreciate how this is a "one pot meal" and that you don't have lots of extra dirty dishes.
In addition to easy and delicious camping recipes, we can help make sure your RV is ready for your fall road trips. Contact us today to schedule some RV service!