When it comes to to-do lists, winterizing your RV is probably the last thing you want to tackle. Let us do the work for you. We can get your RV winterized your RV while you stay in your vehicle. This is a great way to check off this task, have it done by trusted professionals, and stay safe in doing so.
The pandemic has changed a lot of how we do business, and this is one thing that is sure to make you happy. It saves you time and effort. Stop in at our Thurmont location Monday through Friday from 9am-11am and 1pm-4pm for winterization or schedule an appointment at our New Oxford and Frederick locations. Remember that at our Thurmont location winterization is done on a first come, first served basis.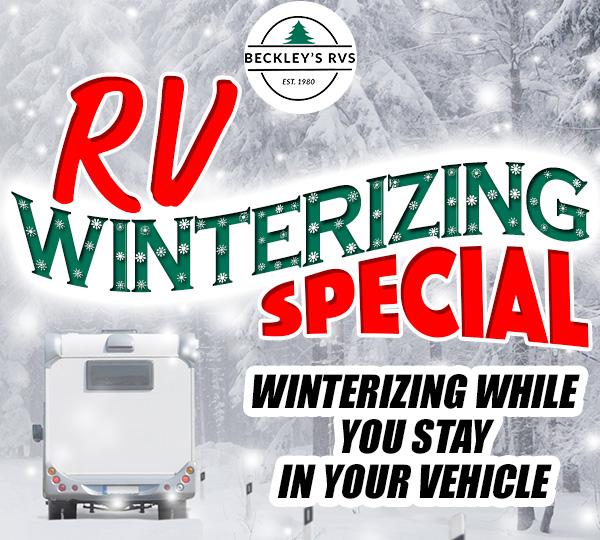 Winterization Cost
Conventional with WH Bypass….………….. $139.95
With Winterization-101 tutorial……………… $189.95
Please add additional cost for each accessory listed below:
-Without WH bypass $10.00
-Washing Machine $10.00
-Ice Maker $10.00
-Dishwasher $10.00
-Macerator $10.00
Thurmont location: Winterizing is done on a first come/first served basis.  9am-11am and 1:00pm-4pm Monday through Friday
New Oxford & Frederick locations: Winterizing is done by appointment.
Every winterization appointment includes blowing water out of lines and running RV antifreeze through all plumbing. Please note that we do not empty grey or black tanks. That will need to be done ahead of time. As long as your RV is kept free of water and doesn't come in frozen we will guarantee our winterization. If something happen and a repair needs to be made we will fix your water system at no cost to you.
Interested in more RV service assistance? Out team can help with the following:
RV Prep
Reconstructive Bodywork
Automotive Repair
Hitch installation
Specialized Accessory Installation
RV Parts & Accessory Installation
Plumbing, Carpentry, 12 volt & 110 volt Electricity and LP Gas
RV Customization
Need help with RV Service? Contact us or stop by to shop during our Beckley's RV Show. We can answer your questions, walk you through units, and ensure you've got the information needed to make the best decision for your needs. We can also assist with RV financing to make affording your dream RV easier than ever.