We love our customers. And while we show them appreciation month after month, October is customer appreciation month. That means we pull out the big guns and offer incredible deals on RVs, free food, and winter maintenance seminars. What are you waiting for? Come on down to Beckley's and shop our huge selection, speak with our team, try a great meal, and learn from our RV winterization seminars.
Customer appreciation month is our favorite time of the year because it's how we show how much we love you!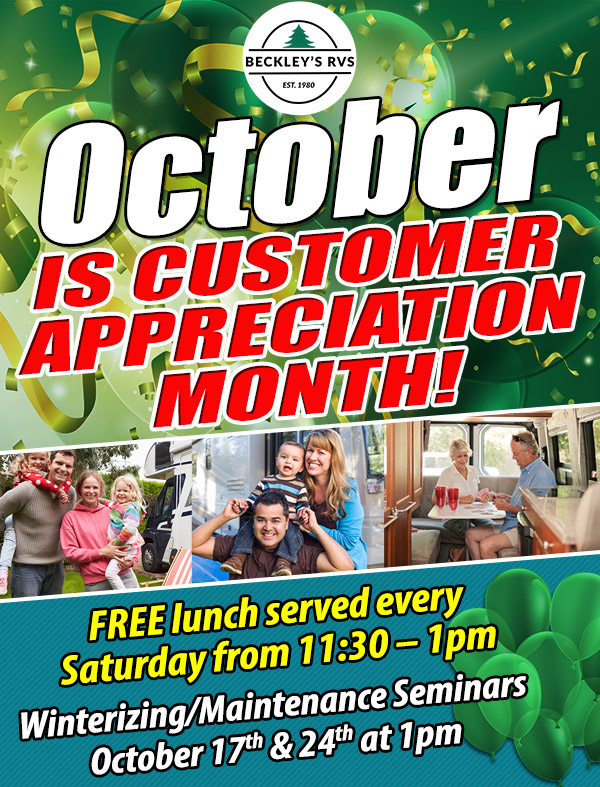 Visit Two Locations
Beckley's Thurmont:
11109 Angleberger Rd.
Thurmont, MD 21788
Beckley's New Oxford:
4643 York Road
New Oxford, PA 17350
Free Lunch
They say there's no such thing as a free lunch, but at Beckley's there is! Stop in every Saturday from 11:30am-1pm for a free lunch. We welcome everyone to grab a tasty meal (usually hot dogs and soda) and browse our selection of RVs. Now is a great time to get into an RV and start enjoying it in the cooler weather.
Seminars
On October 17 and 24 we are hosting winterization and maintenance seminars at 1pm to help you better understand how to care for your RV. During the winterization seminar we walk through what winterization is, how to do it, what you need, and tips and tricks to make it go smoother. Of course, you could always have us winterize your RV.
Our maintenance seminar will help you understand basic RV maintenance. If you're new to RVing, just getting back into it, or need a refresher, this seminar will be a huge help. From keeping slides lubed to maintenance milestones, this seminar promises to be enlightening and helpful. It's also the perfect one to bring along friends who might be interested in RVing to.
If you're interested in learning more about our huge selection of RVs for sale, contact us or stop by to shop during our Beckley's RV Show. We can answer your questions, walk you through units, and ensure you've got the information needed to make the best decision for your needs. We can also assist with RV financing to make affording your dream RV easier than ever.