RVing is a fabulous family activity. Just ask anyone who enjoys it. But if you aren't quite sure whether RVing is right for you, perhaps you should approach the hobby from another angle. Consider renting. Renting an RV allows you to try out various RV types and styles so you can make the right, informed decision before full on plunging into a purchase.

We're delighting to offer a large selection of RVs for rent. From motorhomes to towables, you can rest confident we have what you are looking for. And, the great news is that if you rent an RV from us, you can use up to 3 days of your rental fee toward the purchase of an equal or similar RV.
This program is a winning option for families on the fence about purchasing an RV. In fact, It's an option we recommend to anyone who hasn't yet been in an RV and isn't sure about taking the plunge. What better way to make a decision than to enjoy the hobby beforehand and then choose whether you want to pursue it long-term afterwards?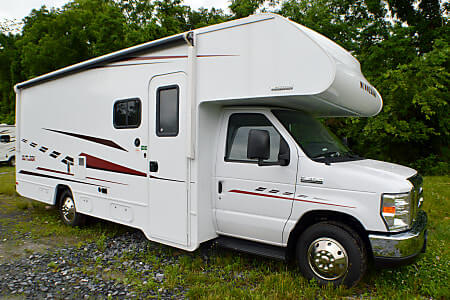 Our rent to buy program actually gives you 90 days after your rental to think about your experience and whether you want to purchase. You can then come in when you're ready and find the right RV for your family's needs. We'll walk you through floorplans, explain various options, and get you on the road as soon as possible.
Up to 3 days value will be applied as a discount to your purchase of a equal or similar RV – new or pre-owned can be considered.
This offer cannot be exchanged for cash value. Cannot be combined with other offers or discounted RVs when making a purchase. Must be used within 90 days.
Interested in learning more about RVing? Perhaps you think our Rent to Buy program is perfect for you. Whatever your needs, contact us and we would be happy to help you out. Our team is dedicated to helping you find the best RV for your family at a price that is affordable. We can also assist with RV financing, so affording your dream RV has never been easier.