Are you in the market for a new RV and looking for a great deal. Don't let the cold weather stop you from finding the RV of your dreams. Shop our huge RV sale during February 19, 20, 21, 26, 27, and 28. We're proud to offer travel trailers, fifth wheels, and motorhomes at prices that are sure to make your wallet happy.
Travel Trailers As Low As $16,999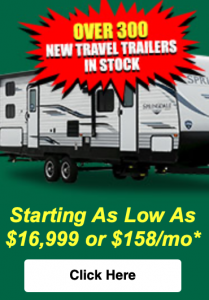 Our selection of new travel trailers includes Springdale Mini, Puma Ultra Lite, and more. Travel trailers are a popular option for families and many of our models are lightweight enough to be towed by crossover vehicles. These RVs are great for families who want an affordable option that gets them out of tents and into an RV.
$1,700.00 down = $15,299.00 financed @ 6.99% x 144 months = $157.25/ month $7,345.00 interest / $22,644.00 total of pymts.
Fifth Wheels As Low As $33,999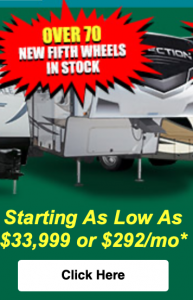 If you're looking for an RV that tows steadily and comes with a ton of features, look no further than the fifth wheel. These RVs offer tons of space, luxurious features, and are priced to sell.
$3,600.00 down = $32,399.00 financed @ 6.99% x 180 months = $291.03/ month $19,986.40 interest / $52,385.40 total of pymts.
Motorhomes As Low As $69,999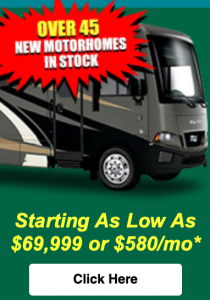 Motorhomes offer you the convenience of hopping in an RV and hitting the road. There's no hitching up or having to level things. They're just ready to go. If you've been looking for a motorhome, shop our large selection today with options from popular makers like Winnebago and Newmar.
$9,000.00 down = $80,999.00 financed @ 5.99% x 240 months + $579.83/ month $58,160.20 interest/ $13,9159.20 total of pymts.
If you're interested in shopping for a new RV, contact us. We'll happily answer your questions, walk you through units, and ensure you have the information needed to make the best choice for your needs. We can also assist with RV Financing, so affording your dream RV is easier than ever.