One of my family's favorite camping recipes is for shish kebabs. Not only are they delicious and easy to make, but they're also a crowd pleaser because of how you can tailor it to suit your own preference. Here are a few ideas below for this easy camping recipe. Bring the ingredients you like on your next camping trip, follow this guide for the basic build, and follow your heart (or tastebuds!) for the perfect flavor combination! Plus, we've got some suggested marinades you can also try!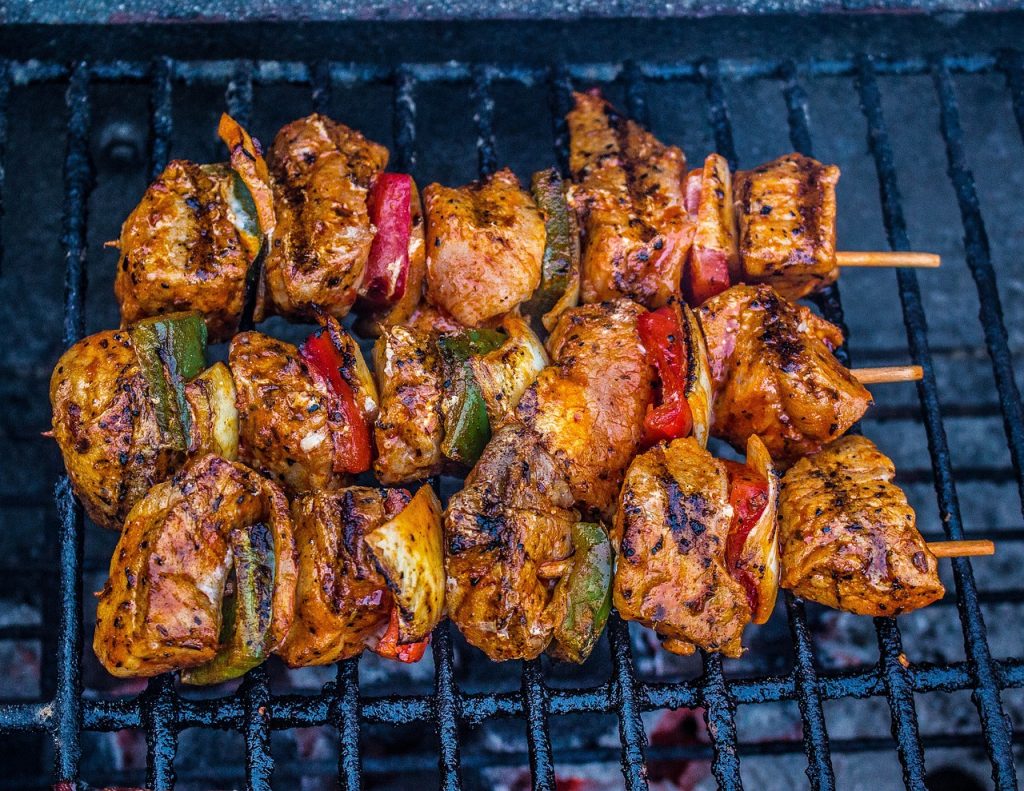 Best-Ever Shish Kebabs
Ingredients:
Meats or proteins: beef steak, turkey or chicken breast, sausage, shrimp, even tofu if you like it…the choice is yours!
Fresh fruits & veggies: Cherry tomatoes, bell peppers, onions, zucchini, yellow squash, mushrooms, pineapple, or even apples!
Vegetable or olive oil
Salt, pepper, or other seasonings
You'll also need:
Metal or wooden skewers
Meat thermometer
A heat source: your grill, or the cooktop on your RV's outdoor kitchen, or even the campfire!
It's skewer time!
Note: wooden skewers need to be soaked in a pitcher of water for 30 minutes prior to grilling. This keeps them from burning.
Thread the ingredients of your choice onto the skewer, alternating meats with veggies to blend flavors. This is a kid-friendly and fun part of the recipe, so let your kids help and build their own skewers!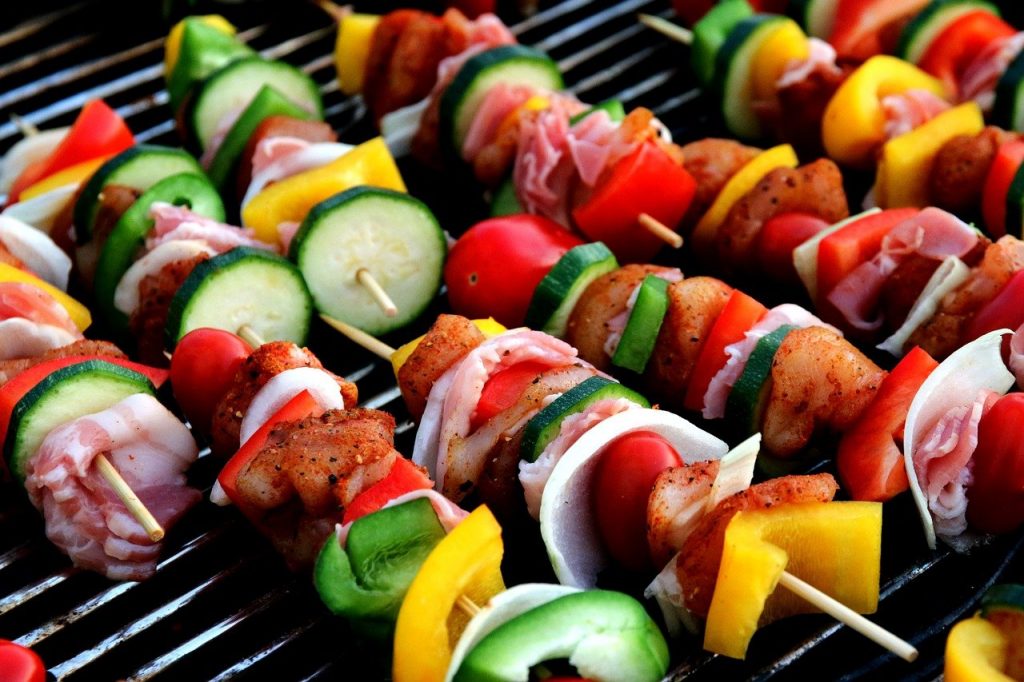 Drizzle or brush lightly with oil, season with salt and pepper to taste and add other seasonings as desired.
Grill until meat is cooked through. We recommend using an internal meat thermometer to check doneness:
Beef: 155
Pork: 160
Chicken: 165
Suggested Pairings
Some people like a lot of freedom in exploring new flavors when cooking, and others like more guidance. It's all good! If you're undecided on pairing together different flavors, try some of these combinations. It's a total home run!
Beef steak, peppers, onions, mushrooms, zucchini, and yellow squash
Pork, apple, and onions – brush with barbeque sauce before grilling
Shrimp or chicken, bell peppers, and onions
Pork, pineapple, and peppers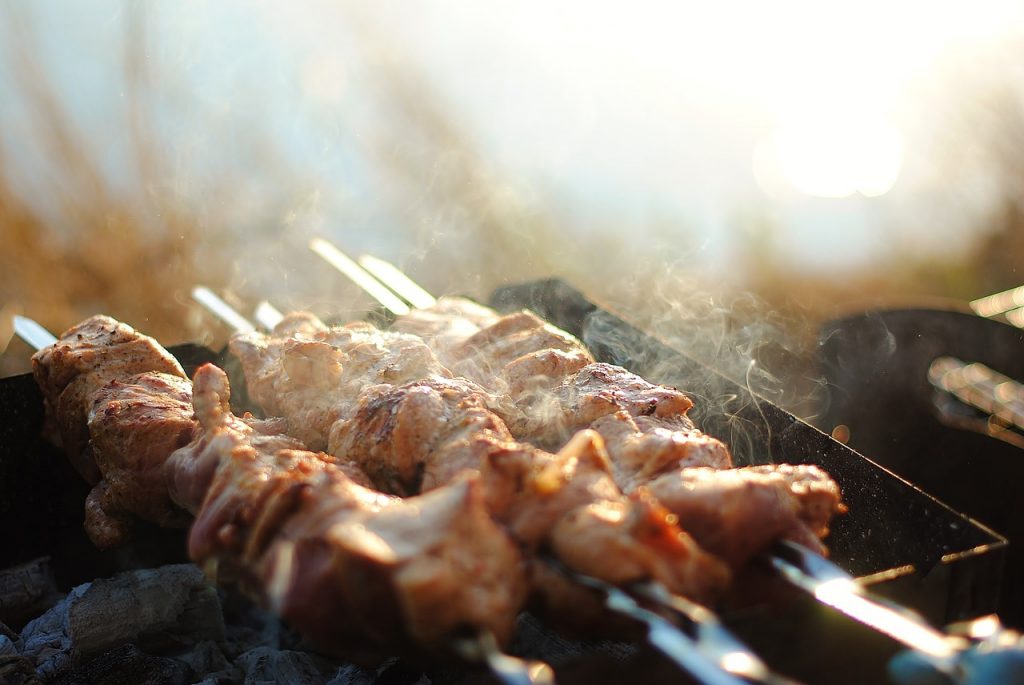 If you really want to kick it up a notch, try a marinade for your meat(s) the night before! Combine these ingredients in a food storage bag, toss in the meats, and refrigerate overnight.
Zesty shrimp: ¼ cup olive oil, ½ tsp chili powder, and 3 Tbs lemon juice. Whisk well, add shrimp, and refrigerate overnight.
Teriyaki beef: ½ cup sugar, ½ cup soy sauce, ½ cup ketchup, 1 tsp garlic powder, and 2 tsp ground ginger. Whisk well, add 1 lb cubed beef sirloin steak, and refrigerate overnight.
Maple chicken: 2 tsp olive oil, 1 Tbs grated ginger, 2 cloves minced garlic, ½ cup teriyaki sauce, 3 Tbs maple syrup, ½ cup chicken broth, 2 Tbs orange juice, 1 tsp sriracha sauce, 1 Tbs cornstarch, and 1 Tbs water. Whisk well, add cubed chicken breast, and refrigerate overnight.
We'd love to help you find the perfect new or used RV that has all the amenities your family needs – like an outdoor kitchen that makes recipes like this fun and easy. Contact us today!