White Sands National Park isolated in New Mexico and completely surrounded by the White Sands Missile Range. The park covers 145,762 acres in the Tularosa Basin, including the southern 41% of a 275 sq mi field of white sand dunes composed of gypsum crystals. This remote park does not offer wi-fi and cell service is spotty. This makes it the perfect place for someone looking to get away from everything to visit.
Learn about what this park has to offer in today's blog post.

A Popular Destination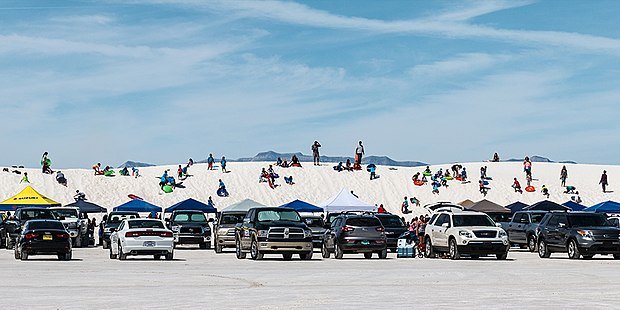 This park is the posted visited national park system site in New Mexico and features about 600,000 visitors each year. The most common months for visitors is March through August, but sledders and photographers can be seen throughout the dunes year round. The two busiest months are March and July with more than 60,000 visitors each, or about 2,000 per day. November through February has about half that amount per month.
Things to Do
There is a $25.00 per vehicle that's valid for seven consecutive days and payable at the entrance booth on Dunes Drive. The Dunes Drive leads 8 miles (13 km) into the dunes from the visitor center at the park entrance. One of the most popular activities to enjoy at the park is picnicking. Three picnic areas are available. Bring your camera so you can capture photos of the stunning scenery. There is also a backcountry campground with ten sites for overnight camping in the dunefield.
Hiking is an enjoyable activity for many visitors. Five marked trails totaling 9 miles (14 km) allow visitors to explore the dunes on foot. Ranger-guided orientation and nature walks occur at various times and months throughout the year. According to Wikipedia, "Sunset strolls are presented every evening of the year, while Lake Lucero hikes are offered once a month, from November to April, and full moon guided hikes from April to October, on the night before the full moon. The park participates in the Junior Ranger Program, with various age-group-specific activities."
Located in New Mexico, this park is truly a great option for families looking to get away and make memories with each other. If you need a new travel trailer or fifth wheel to take you there, contact us today.